Our Brand
If the past few years have shown us anything, it's how relevant and modern Marie Claire's identity is, and the value and purpose of our work, around the world.
The value we have placed in journalism from the beginning of our history bears more and more fruit and is increasingly celebrated, even recognized by official authorities, as Marie Claire France digital has received the IPG certification (certified news source) in 2022, one year after the print edition, and Marie Claire UK has won Innovation of the Year at the British Society of Magazine Editors Talent Awards 2022 for its ongoing work to bring sustainability to the forefront through myriad events, partnerships, awards and a dedicated channel.

The strength of our international solidarity, and the closeness of our international network of sister editions has proved precious and valuable in these turbulent years. Dramatic events abunded: first Covid, then the dramatic war in Ukraine, where our local team, who has been living in excessively difficult conditions since the beginning of the war, have kept working, publishing online even under the threat of bombs and constant alarm. In November 2022, thanks to the determination of these courageous women and men, Marie Claire Ukraine's print was back on the newsstands. In the US, the abrogation of Roe v. Wade in June 2022 launched a series of protests that mirrored those for the legalization of abortion in France in the 70's, and in both cases, Marie Claire was at the forefront of these historic marches, just as in 2019 Marie Claire Argentina led the fight for its legalization locally. In France, Marie Claire's Think Tank held each year at UNESCO, includes more and more of our international sisters, truly cementing the fact that our strength is in our great global Marie Claire family.

Every country, every culture creates a different context, but through our journalism and our presence, we support all women everywhere. Marie Claire Taiwan organized it's annual Pink Ribbon Run, while Marie Claire Arabia has been working tirelessly on Breast Cancer Awareness, shooting a video with dancers, a celebration of bodies to show how important it is to care for them, a brave gesture in the region's sometimes tense social and political context. Despite the impossible censorship, Marie Claire Russia has kept its investigative mission, with an in-depth series of reportages about sex trafficking in the ex-soviet republics. Marie Claire Australia keeps championing women with their International Women's Day breakfast, adding their first Women of the Year Award.
A champion of women's empowerment, Marie Claire develops franchises and events to connect with its readers and inspire them.
The Marie Claire Power Trip in the US, Brazil and Greece are gorgeous, star-studded events in which Marie Claire leads conversations around equality, business, sustainability, Metaverse, while creating a supportive environment for female networking.

But Marie Claire also champions beauty, fashion, elegance and style around the world. Marie Claire China inspires us all with its extremely luxurious fashion shoots, and its focus on Gen Z through their Marie Claire Now companion magazine. Meanwhile, Marie Claire UK has perfected the art of the Digital cover, showing the world that it is possible to create an intimate and luxurious cover experience online. Marie Claire Italy keeps taking our breath away with their elegance and sense of Dolce Vita, while Marie Claire Belgium shares its very individual, very Belgian sense of fashion and design.
As time moves on and the environment crisis looms ever larger, Marie Claire is taking an increasingly strong and credible stance on sustainability, especially since globally, women are the ones who think most and do most for the environment and in their households. In 2022 we joined forces with Kering to host our first global initiative, Fashion our Future, which deepened our long-standing commitment to environmental issues. Beyond Marie Claire France, the content was published in Marie Claire USA, while Marie Claire China created incredibly impactful content featuring influential Chinese celebrities and personalities, all of which was re-published and re-adapted by a dozen other Marie Claire editions worldwide, from Japan and Australia to Argentina or the Middle East. Following in the footsteps of Marie Claire UK, Marie Claire Netherlands launched its very own Sustainability Award, as most of our editions include an increasingly green perspective throughout their content.
In 2022, Marie Claire France, the mothership and the first incarnation of the brand, celebrated an extraordinary 85 years with 3 special issues, an NFT program, and an elegant event in a privatized Musée d'Orsay.
Marie Claire spans 29 markets and engages and connects with more than 87 million women around the world.
With record-breaking traffic of over 35 million unique users, superior engagement with over 38 million social savvy fans and 11 million print readers, Marie Claire continues to thrive in reaction to both consumer and market demands.
Marie Claire brand extensions around the world include Marie Claire Maison, Marie Claire Enfants (Kids), Marie Claire NOW, Marie Claire Accessories, Marie Claire Fashion Shows, Marie Claire Beauty, Marie Claire Weddings, Marie Claire Travel and Marie Claire Idées.
Our Story
Marie Claire was founded by Jean Prouvost, the creator and owner of Paris Soir, the leading daily newspaper of the century (selling 1,700,000 copies in 1939). Jean Prouvost travelled extensively to develop the editorial formula of Marie Claire, after which he became inspired by the American and British methods of journalism. He said,"we will not be a good magazine by looking at ourselves in the mirror... a good magazine should take its inspiration from looking at magazines around the world".
Marie Claire was born twice, first as a weekly in October 1937, where it saw such immediate success, that police were asked to keep watch over newsstands to keep order. This success was further proved by phenomenal sales;
Marie Claire sold 500,000 copies of the first issue, and was up to nearly a million copies in 1939, on the eve of World War II.
Marie Claire was a magazine ahead of its time, offering not only the latest in fashion and beauty, but also delivering serious and provocative journalism. It was this contemporary and unique combination that immediately proved so successful. With Marcelle Auclair the original power woman at its head, Marie Claire became the first modern women's fashion magazine.
From the beginning, Jean Prouvost's goal was to speak to women of all ages, from all walks of life; he wanted Marie Claire to be a magazine that spoke to both "la petite Française" and "la Duchesse d'Aven". Marie Claire was born a second time in October 1954, this time as a monthly, with the same founder, Jean Prouvost, the same editor, Marcelle Auclair, and the same mission. In 1976, his daughter Evelyne Prouvost founded the Groupe Marie Claire with her sisters, after the dissolution of her father's press group and became its CEO. The Marie Claire group starts its international development with the launch of Marie Claire Japan in 1982, followed by Marie Claire Italy and Marie Claire Spain in 1987, Marie Claire UK, Marie Claire Greece and Marie Claire Turkey in 1988, Marie Claire Latin America and Marie Claire Hong Kong in 1990, Marie Claire Brazil in 1991, Marie Claire Taiwan and Marie Claire Korea in 1993, Marie Claire USA in 1994, Marie Claire Australia in 1995, Marie Claire Russia in 1997 and Marie Claire China in 2002.

Arnaud de Contades (Evelyne's son) became CEO of Groupe Marie Claire in 2004. Since becoming CEO, Arnaud focused on driving diversification and amplifying the digital transformation of the group. With successful launches including Stylist and magicmaman (the leading parenting media brand in France) and a premium portfolio of women's, parenting and lifestyle brands, Groupe Marie Claire now reaches an influential and connected audience of over 12 million.
Arnaud de Contades continued to accelerate the international development of Marie Claire, launching Marie Claire in Czech Rep., Hungary, Ukraine, Middle East and Argentina. Every year, the magazine Marie Claire keeps exploring new territories, opening in new markets magazines and distributing its unique perspective around the world.
Through fashion and beauty focused magazine brands, extensive digital platforms, print magazines and social media platforms and by meeting readers face to face,
Marie Claire now connects with an audience of over 100 million internationally.
Today Marie Claire is present in 28 markets around the world including Europe, the Americas, Asia Pacific, Africa and the Middle East, making Marie Claire one of the most widely recognized women's fashion media brands in the world.
In addition to Marie Claire and its sister magazines, the Marie Claire Group also publishes: Cosmopolitan, Stylist, Avantages, MagicMaman, Mariages, Marie Claire Idées, Cuisine et Vins de France and La Revue du Vin de France, as well as many websites.
Marie Claire France 1936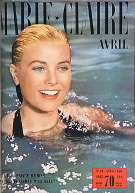 Marie Claire France 1954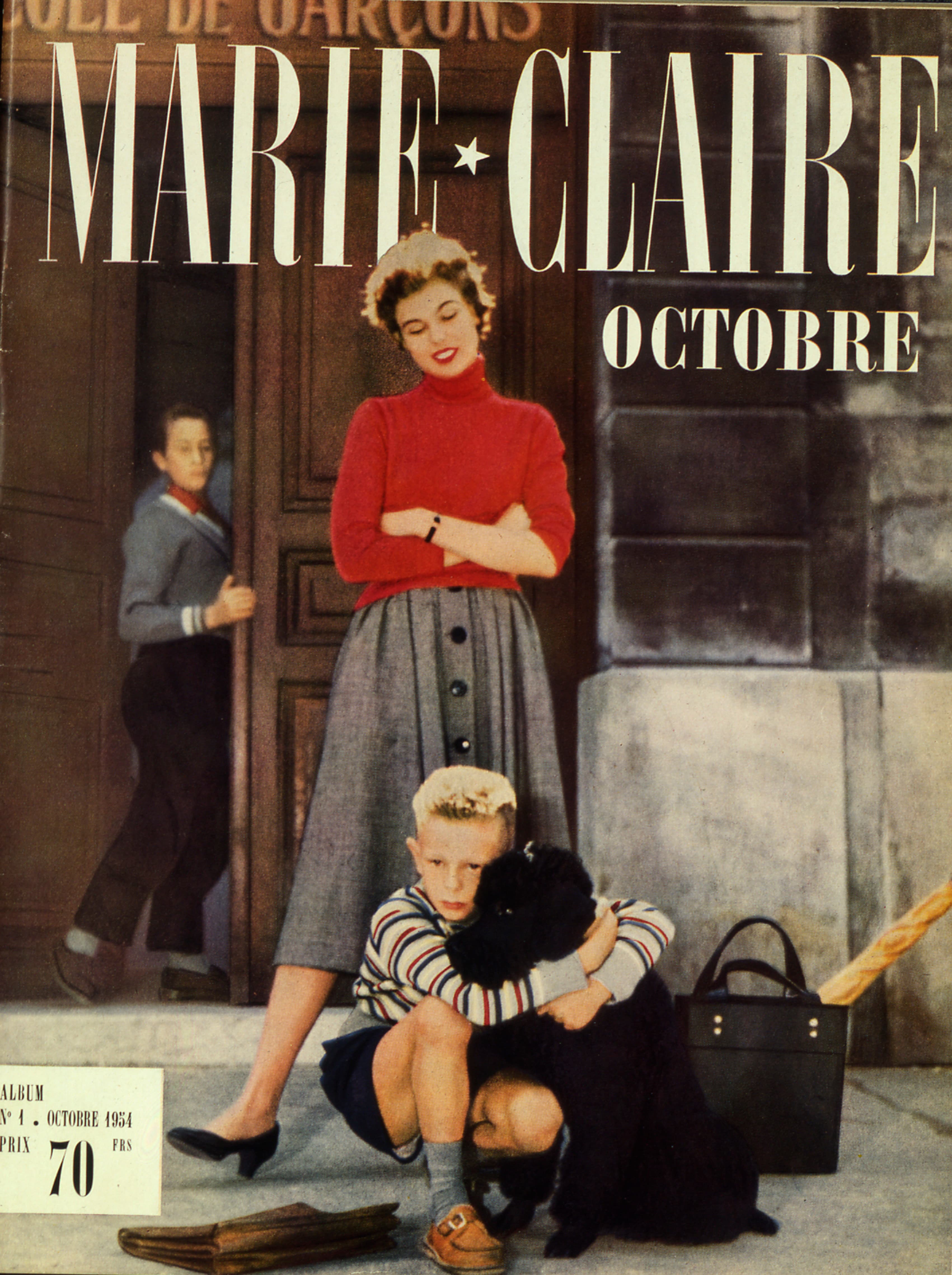 Marie Claire Japan 1982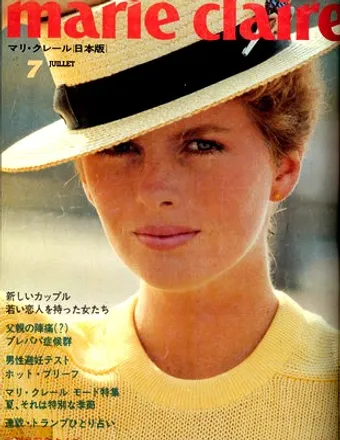 Marie Claire Spain 1987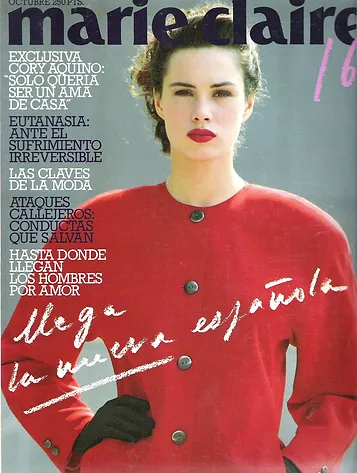 Marie Claire France 1986